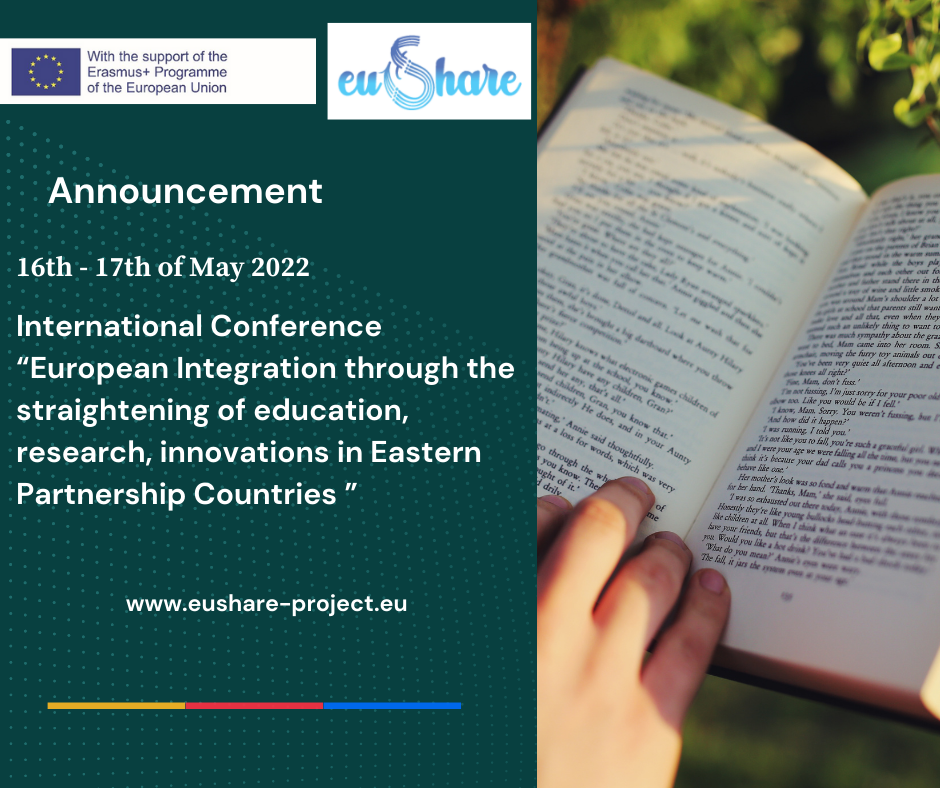 International Conference "European Integration through the straightening of education, research, innovations in Eastern Partnership Countries"
Dear students, junior professionals and academic community,
It is our pleasure to inform you that the International Conference "European Integration through the straightening of education, research, innovations in Eastern Partnership Countries " project nr.610666 is named "European economic integration of the Republic of Moldova through EU shared values: education-research-innovation". If you are interested in the above mentioned thematic, do not miss the chance to join this event with interactive speeches of experienced and knowledgeable guests, presentations and case studies.
Objectives:
· To foster and strengthen understanding and awareness of the wider public regarding the quality of education and Easternpartnership-EU common scientific- educational-technological activities ;
· To promote the involvement of the wider public in a public policy dialogue regarding European Integration of Moldova;
· To inform and raise awareness of representatives of the academic world, youths, researchers, young professionals, civil society on regional and local levels on the importance of the EU shared values (innovation-research-education) for the development of the country and to promote their engagement in the policy dialogue in their local communities;
· To improve the involvement, raise awareness and inform the wider public on the progress achieved towards economic association of Moldova with the EU due to access to EU funding programmes for education-research-innovation.
Working language: English/Romanian/Russian
Who can participate?
· University students from Bachelor or Master studies;
· University lecturers and researchers, student associations, interested administrative staff;
· Representatives of public administration, regional administrations who primarily work with EU law/Policy and therefore require both theoretical and practical training in EU integration issues;
· Representatives of the diplomatic mission;
· Civil servants from local, and leaders of NGOs;
· Wider public (including local mass-media).
Date: 16th May to 17th of May 2022
Venue: Moldova State University, mun. Chișinău, str. Academiei 3/2
Application Deadline: 2nd of May 2022
For additional information please see agenda - will be provided soon
Register at https://docs.google.com/forms/d/1mxpu...
Preliminary programme:
The participants will be encouraged to share their ideas and come up with follow up initiatives.
Introductory session: Eastern Partnership as a New Form of the European Union's Cooperation with Third Countries
Session 1: Integration of Eastern Partnership Countries in EU through education-research-innovation.
Session 2: Knowledge Economy- universal language for the European Union and the Republic of Moldova.
Session 3: Youth and Europeanization of Moldova through education, research and innovation.
Session 4: Experience of the Eastern Partnership countries (ex:Moldova, Ukraine, Georgia, Armenia ) associated to Horizon Europe
Session 5: New initiative (EaPConnect) EU4Digital: Connecting Research and Education Communities (https://eufordigital.eu/ru/discover-eu/eap-connect/) to develop a regional Eastern Partnership Research and Education Network and its interconnection with the pan-European GÉANT network and "EU4Innovation"
Closing Session: Proposals and Recommendations.
Proposals and recommendations to national legislators and decision-makers, governmental bodies and agencies in Moldova and to all relevant EU institutions.
Methodology: The format of the conference will be highly interactive, with key international experts and decision making authorities, with hands-on interactive sessions that give participants the opportunity to experience "on the ground" lessons learned from the EUSHARE project.
At our pre-conference reception, network breakfast and poster sessions, the event will provide ample opportunities for direct exchange between various stakeholders, as well as access to EU and RM policies.
Background materials: Participants will receive a working folder with included project's Leaflet, Brochure" EU policies related to education-research-innovation towards Moldova".
Publications: Articles will be edited in the conference proceedings.
Brief description of the content :
EDITORIAL NOTE
v CHAPTER I: European Integration processes of Moldova within European Neighborhood Policy, Eastern Partnership and Association Agreement related to the education-research-innovation.
v CHAPTER II: Knowledge-driven competitiveness stimulated by EU programmes
v CHAPTER III: Innovations for growth and jobs.
v CONCLUSIONS: Proposals and recommendation on the further strengthening and implementation of the EU Neighborhood Policy, Eastern Partnership and Association Agreement.
Technical requirements for publication:
Final version of the Publication will be elaborated in due time and on the basis of the papers presented by national and international experts.
For additional information, please email the EASHARE project nr.610666 at [email protected] or [email protected]
For more details about the project Nr. 610666-EPP-1-2019-1-MD-EPPJMO-PROJECT "EUSHARE: European economic integration of the Republic of Moldova through EU shared values: education-research- innovation," please visit the web site: www.eushare-project.eu
You need to register to leave a comment